Hawaii Santa Claus - Honolulu
Reliable Santa Claus for hire on the Island of Oahu. All our Santas have gone through a full background check and have no criminal record. Happy, Jolly, Punctual and ready for all events.

Hawaii Comedian Augie T. being naughty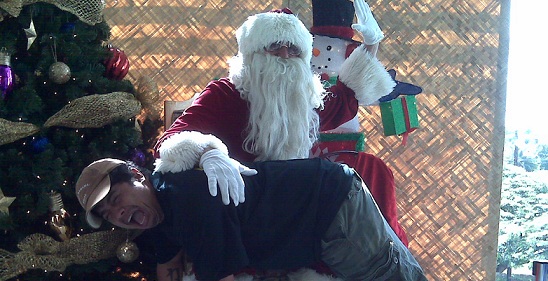 Breakfast With Santa
December 8th 2012
Bay View Golf Park, Kaneohe
8:00am - 10:00am Seating Session 1
10:30am - 12:30pm Seating Session 2
Buy Breakfast w/ Santa Tickets
Adult Tickets (15 and over)
Children Tickets (14 and under)
Names will be on will call at Event door
Children and adult tickets each have their own add to cart button. Both tickets end up in the same shopping cart. Thank you!
Click Here for Full Event Details
Hawaii Santa Claus Resume
Former Santa Claus of choice:
Pearl Highlands Shopping Center
Koko Marina Shopping Center
Windward City Shopping Center
Pearl Ridge Shopping Center
and more...